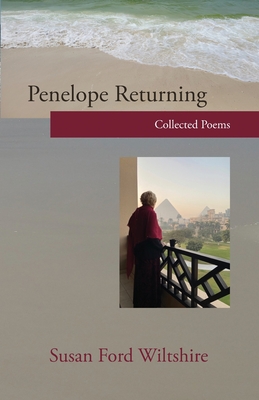 Penelope Returning
Susan Ford Wiltshire's poetry explores the inner life of a scholar with reflections on family, friendship, love, farming, travel, and wisdom from the past. Laced with humor, Wiltshire's poems probe small matters and large with grace and insight.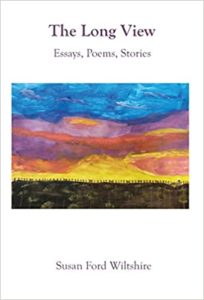 The Long View
The Long View is a collection of essays, poems, short stories, and a novella. Wiltshire's essays cover issues both public and private, from her work as an activist to mothering two children in both Nashville and the Wiltshire farm. Her poetry is similarly diverse, deftly displaying the depths of attachment to great works of literature, lovers that never were, a lost journal, and, humorously, those of barnyard animals. The reader will find such varied figures as Vergil, Sam Houston, Ulysses S. Grant, Buddy Holly, and Polyphemus the Cyclops.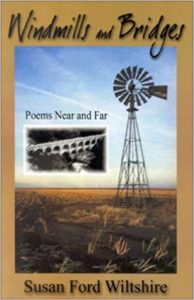 Windmills and Bridges: Poems Near and Far
The poet Naomi Shihab Ney writes of Windmills and Bridges: "Susan Ford Wiltshire writes with compassionate strength and generosity. The magnetic clarity and honesty of the West Texas horizon-line is present here–as is a great resilience in response to loss and an appetite for wisdom unfolding. These are poems that nourish gravity. This is a spirit that says friend."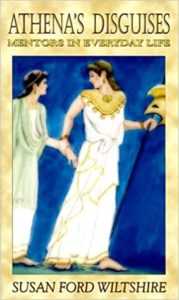 Athena's Disguises
Mentors in Everyday Life
The first mentor in Western culture is the goddess Athena in Homer's Odyssey. She appears in many guises–male and female, young and old, friend and stranger. In contemporary times, a mentor is most often seen as a superior who serves as a role model or sponsor for one's success in a profession. By contrast, Wiltshire says, mentoring in the classical sense has to do with self-knowledge rather than with self-advancement. The hallmarks of such mentoring are risk and change, continued growth, and finally, the assurance that we are not alone in the world. This book is not about how to be a mentor or how to get one. Rather, it suggests new ways to recognize the mentors already around us.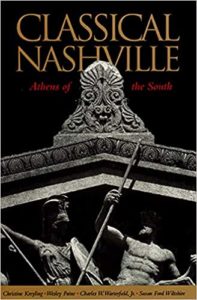 Classical Nashville
with Christine M. Kreyling, Wesley Paine, and Charles W. Warterfield
On the occasion of Tennessee's Bicentennial, four distinguished authors offer new insights and a broader appreciation of the classical influences that have shaped the architectural, cultural, and educational history of its capital city.
Nashville has been many things: frontier town, Civil War battleground, New South mecca, and Music City, U.S.A. It is headquarters for several religious denominations, and also the home of some of the largest insurance, healthcare, and publishing concerns in the country. Located culturally as well as geographically between North and South, East and West, Nashville is centered in a web of often-competing contradictions.
One binding image of civic identity, however, has been consistent through all of Nashville's history: the classical Greek and Roman ideals of education, art, and community participation that early on led to the city's sobriquet, "Athens of the West," and eventually, with the settling of the territory beyond the Mississippi River, the "Athens of the South."
Illustrated with nearly a hundred archival and contemporary photographs, Classical Nashville shows how Nashville earned that appellation through its adoption of classical metaphors in several areas: its educational and literary history, from the first academies through the establishment of the Fugitive movement at Vanderbilt; the classicism of the city's public architecture, including its Capitol and legislative buildings; the evolution of neoclassicism in homes and private buildings; and the history and current state of the Parthenon, the ultimate symbol of classical Nashville, replete with the awe-inspiring 42-foot statue of Athena by sculptor Alan LeQuire.
Perhaps Nashville author John Egerton best captures the essence of this modern city with its solid roots in the past. He places Nashville "somewhere between the 'Athens of the West' and 'Music City, U.S.A.,' between the grime of a railroad town and the glitz of Opryland, between Robert Penn Warren and Robert Altman." Nashville's classical identifications have always been forward-looking, rather than antiquarian: ambitious, democratic, entrepreneurial, and culturally substantive. Classical Nashville celebrates the continuation of classical ideals in present-day Nashville, ideals that serve not as monuments to a lost past, but as sources of energy, creativity, and imagination for the future of a city.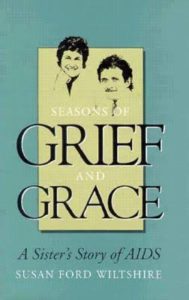 Seasons of Grief and Grace
A Sister's Story of AIDS
Susan Ford Wiltshire and John Ford grew up in the Texas Panhandle, "taking the long view of things, where there was lots to think about because there was nothing to see except the horizon twenty-five miles away." The four Ford children were taught the value of learning and hard work by their father, a cowboy with a serious love of poetry, and their mother, a Texas woman whose rural roots did not prevent her from mastering Latin or reading all of Shakespeare. Susan became a noted classics scholar, while John's work in Republican politics led to his appointment as Deputy Assistant Secretary of Agriculture in the Reagan Administration, from which he resigned in frustration to become active in the American Farm Movement. Just two weeks before his death, he was given the Heroes of American Agriculture Award. When disaster struck and John was diagnosed with AIDS, Susan began writing a work reminiscent of May Sarton's journals, Madeleine L'Engle's Two-Part Invention, and Jessamyn West's The Woman Said Yes. Drawing on the force of family bonds and her humanistic training in classical studies for comfort and guidance, she shows us two siblings sharing an agonizing but special journey, finding opportunities rather than resignation, commitment rather than withdrawal, and strength instead of defeat. This is, in short, a good and inspiring story – one that will help point the way for the millions of others – those who are HIV positive as well as their friends and families – who bear the emotional wounds this disease is inflicting on ever-increasing numbers of us.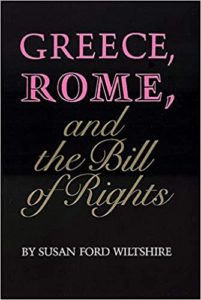 Greece, Rome, and the Bill of Rights
Susan Ford Wiltshire traces the evolution of the doctrine of individual rights from antiquity through the eighteenth century. The common thread through that long story is the theory of natural law. Growing out of Greek political thought, especially that of Aristotle, natural law became a major tenet of Stoic philosophy during the Hellenistic age and later became attached to Roman legal doctrine. It underwent several transformations during the Middle Ages on the Continent and in England, especially in the thought of John Locke, before it came to justify a theory of natural right, claimed by Jefferson in the Declaration of Independence as the basis of the "unalienable rights" of Americans.
Buy Greece, Rome, and the Bill of Rights from your local bookstore.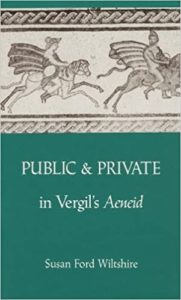 Public and Private in in Vergil's
Aeneid
In our increasingly fragmented world, finding a balance between the public realm of city and politics and the private realm of family, intimate relationships, and the raising of children is not an easy task. When faced with a choice between action in the public world and care for the concerns of the private, we, like Vergil's Aeneas, are often torn between whether to stay or to go.
In this new reading of the Aeneid, Susan Ford Wiltshire provides a historical perspective for the current debate over the public/private dilemma. It is Wiltshire's contention that our present concern over this issue was Vergil's own.
Wiltshire traces the split between public and private back to the origins of bureaucracy in the Roman Empire. She shows that Vergil, although loyal to the new Roman state, was acutely aware of the costs of empire: mothers grieve throughout the Aeneid, home seems far away, friends are missed, intimate forms of love are almost always defeated. And so Vergil developed strategies for reconciling the public and private: characters in this epic act in the public realm while maintaining self-distance, offer hospitality to strangers, perform sustained hard work, and develop a new pietas that is both public and private. Through these means, Wiltshire argues, Vergil thought to strengthen the fragile alliance of public and private spheres, an alliance on which the well-being of both individuals and societies depends.
This book will be of interest to classical scholars, students of political theory, the history of ideas, and women's studies.